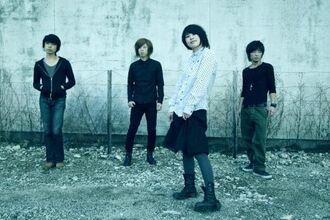 The band, nano.RIPE, consists of three males and one female (from left to right): Abe Nobuyuki (base), Sasaki Jun (guitar), Kimiko (vocals&guitar), and Shinn (drum) . Debuting in 2004, the original members were Jun and Kimiko, as they were friends ever since high school. Later on, the two befriended the two others and created the band they are right now.
Kimiko makes an animated cameo in episode 22 of the series, appearing as the wedding's singer at Enishi's and Takako's reception.
Ad blocker interference detected!
Wikia is a free-to-use site that makes money from advertising. We have a modified experience for viewers using ad blockers

Wikia is not accessible if you've made further modifications. Remove the custom ad blocker rule(s) and the page will load as expected.