Kissuisō is a Taishō period hot-spring inn that was owned by Sui Shijima. Ohana worked and lived there after her mother sends her to her grandmother. It was mothballed at the end of Hanasaku Iroha.
Built during the Taishō period, the inn is quite old-fashioned, as it was built even before Sui came to work at it. Due to this, it was not as popular as most other inns. It stays old-fashioned because the madam-mistress refuses to renovate the place. Even so, the inn received quite a few regular customers.
Ohana and Minko's room
Wave room
Moon room
Crane room
Wisteria room
Kitchen
Front entrance/lobby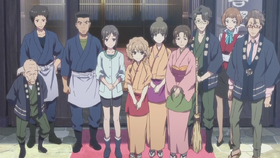 Ad blocker interference detected!
Wikia is a free-to-use site that makes money from advertising. We have a modified experience for viewers using ad blockers

Wikia is not accessible if you've made further modifications. Remove the custom ad blocker rule(s) and the page will load as expected.